" If you think you are only strong if you can lift a certain number, whatever that number is, you will feel pretty weak most of the time. Strength is not a data point; it's not a number. It's an attitude." - Pavel Tsatsouline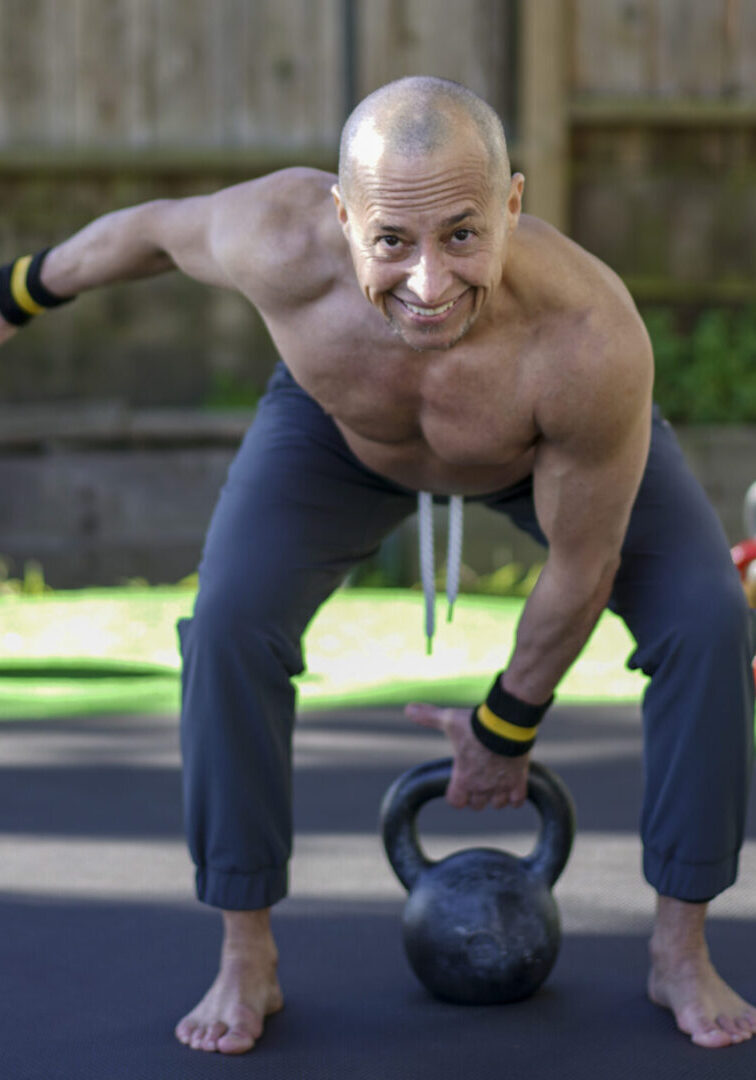 My Kettlebell Training Teaching Approach: More Than a Trainer, I am a Teacher and Always a Student.
When teaching kettlebells, I implement numerous methods that I have learned and practiced over many years to address the movement challenges most people new to kettlebell exercises experience.  My intent is to safely build and guide my students' kettlebell skills through instruction from established techniques that yield results.
My assessments of beginning students start from identifying their weaknesses and asymmetries so I can eliminate imbalances utilizing corrective strategies to prevent injuries and increase performance. Should any student recovering from a disability, or suffering from severely dysfunctional movement, be unable to begin a full training regimen, I am able to refer him/her to an excellent medical professional who works with me as part of a team.
My intent is to help my students to achieve strength and movement efficiency with power and precision. I program kettlebell training along with other training tools and with breathing techniques to amplify my students' strengths so they can safely take their physical training to a new level.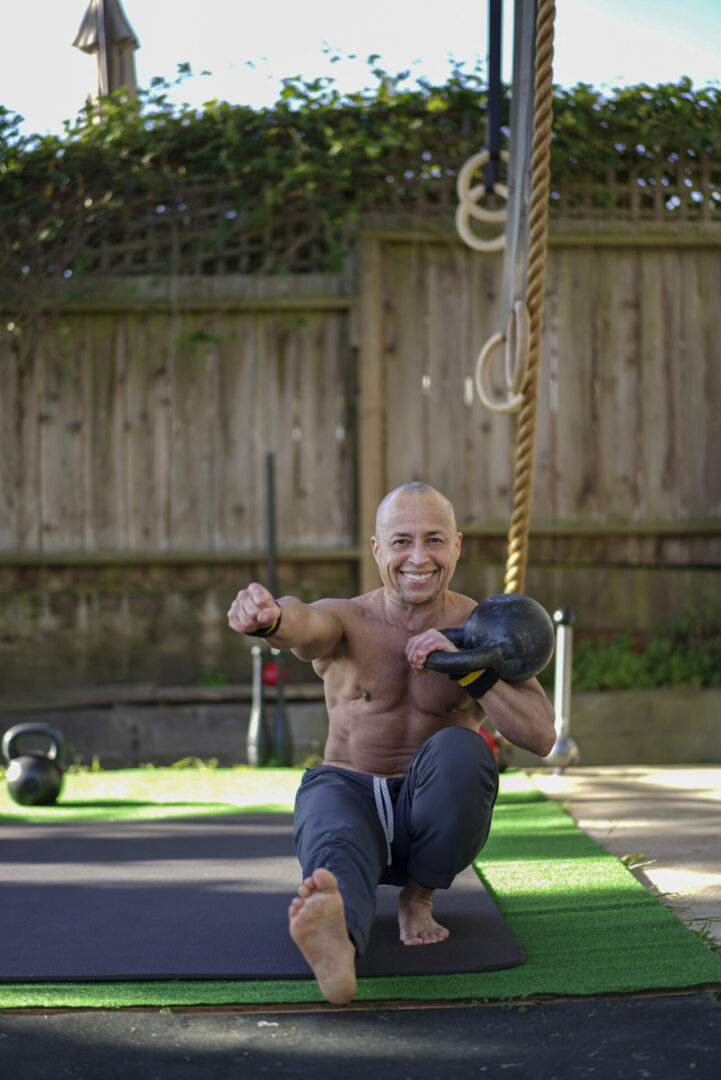 Presently, there is a lot of hype in the fitness media about training with kettlebells. There are countless claims about how effective they are for just about any fitness level or athletic goal. Kettlebell training is not a fad or the "the new thing" in the fitness industry. Kettlebells originated in the Highlands of Scotland centuries ago when wrestlers used them to train for the Highland Games. The word kettlebell first appeared in a Russian dictionary in 1704 (Cherlick, 1994).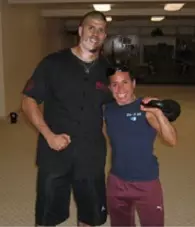 With Mike Mahler at his Kettlebell Seminar in Marina Del Rey in 2005
I began training with kettlebells in 2005 and received first-hand instruction from top-notch strength coach Mike Mahler. After experiencing the myriad benefits and possibilities of kettlebell training, I decided to study this training modality in more depth.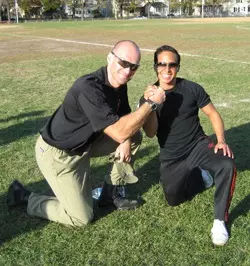 With Pavel in Minnesota at the RKC Seminar in 2006
In 2006 I became a world-recognized Russian Kettlebell Certified (RKC) instructor under former Soviet Special Forces physical training instructor and master of sports, Pavel Tsatsouline, the man responsible for the modern kettlebell revival. In fact, I was the very first Russian Kettlebell Certified (RKC) instructor in the city of San Francisco. The RKC was the First Russian Kettlebell Certification program in existence and is the world's best and most rigorous kettlebell certification, demanding the most extensive background in kettlebell training and the highest standards of their instructors.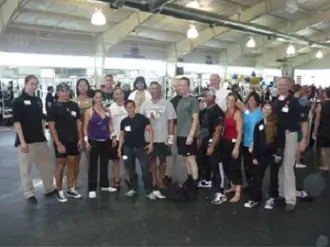 Assisting Pavel at the RKC in San Jose 2009
In 2008 I had the distinct pleasure of being invited to assist legendary strength coach and Brazilian Jiu-jitsu World Champion Steve Maxwell at one of his fantastic kettlebell seminars in San Jose. Steve is noted for having taught the first kettlebell classes here in the U.S. and for bringing the famed "Turkish Get-Up" move to the RKC system.
In 2009, two years after I became an RKC instructor, I had the honor and opportunity of being invited to assist Pavel Tsatsouline at his Russian Kettlebell Certification seminar in San Jose.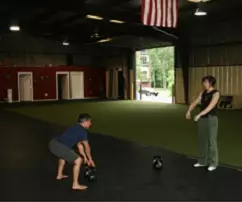 Master RKC Andrea Du Cane refining my kettlebell skills
at the RKC Re-Cert in Columbus, Ohio 2011
If you are interested in functional strength that carries over to your daily activities, and if you want to get stronger without getting big muscles, then kettlebells (along with the appropriate training programs) are all you need. Keep in mind, though, that you may also use other tools for the purpose of functional strength. The point here is that a pair of Kettlebells is just enough to deliver the goal.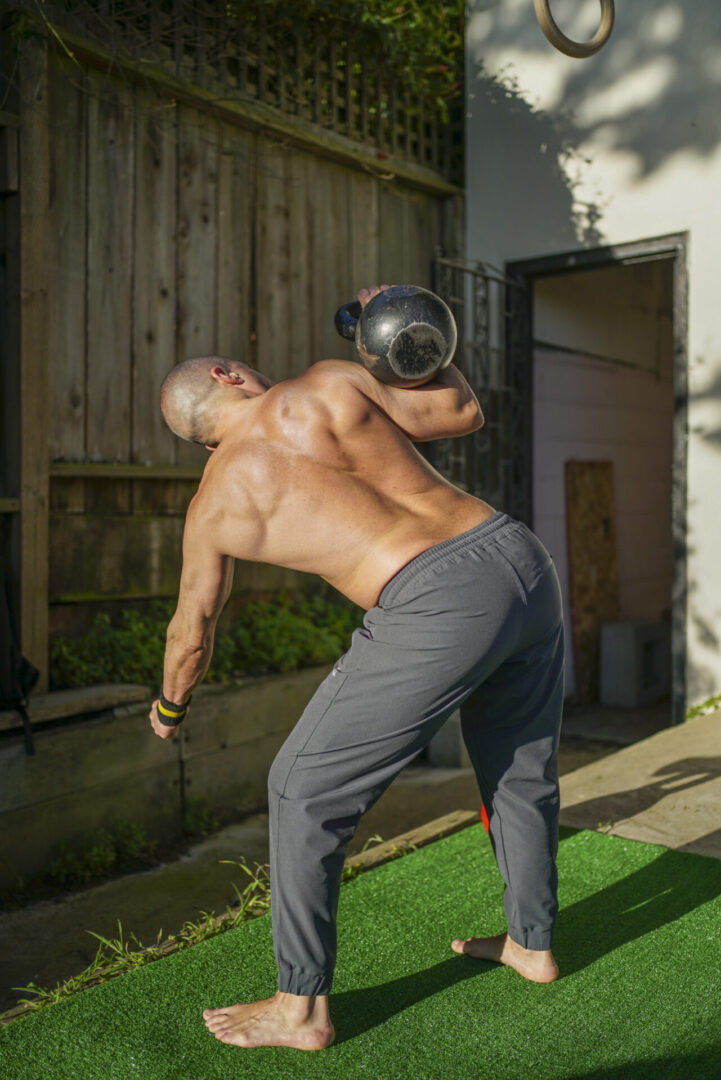 For most bodybuilders and for many athletes, weakened rotator cuff (shoulder stabilizer) muscles and lack of shoulder flexibility result in rotator cuff tears. In exercises such as the Military Press, the Windmill, and the Turkish Get-up (TGU), the weight of the KB is off-center, which forces you to naturally work your shoulder stabilizers (rotator cuff) and to press in a vertical line, increasing your shoulder flexibility. The KB Military Press offers unsurpassed range of motion; it does not restrict the shoulder at the bottom and stretches it at the top.
Personally, after weightlifting and bodybuilding for nearly twenty-one years, training with kettlebells amplified my strength and muscle density. I had never deadlifted heavier in my life. My wrist strength went through the roof. As a result of my kettlebell training, I no longer need to use my lifting straps during my weighted pull-ups and some other heavy lifts.  The proper question is not which training modalities and forms of weight tools are better, the proper question is which training modality is appropriate for a given goal or situation. All forms of weight tools hit the body differently and everything has a time and place in a training cycle. A clear understanding of program design and exercise science coupled with the knowledge of the individual's physiology, proper nutrition, abilities, limitations, and needs, will ensure the greatest results in working towards the goal at hand.